Progress toward the Age-friendly City goal
WHO's graphic [PDF] illustrates the process.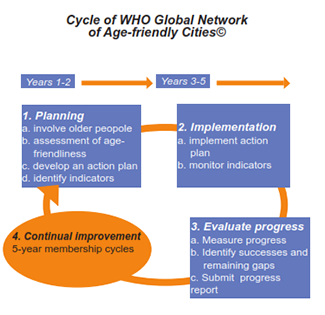 The "Cycle of WHO Global Nework of Age-friendly Cities©" includes:
Planning
The goal for years 1 and 2 are to:
involve older people
assess the age-friendliness
develop a action plan, and
identify indicators
Implimentation
For years 3 through 5, the goal is to:
Implement an action plan, and
monitor indicators
Evalutate progress
After year 5, the goal is to evaluate the city's progress, including:
measure progress
identify successes and remaining gaps
sumbit a progress report
Continual Improvement
The program maintains a 5-year member cycle
Domains
An individual's quality of life can be influenced by many things: health, the environment, transportation, and social activity, to name just a few. WHO identified eight categories of influence and the District added two, bringing Age-Friendly DC's to 10. The categories are referred to as domains.
The 10 domains will help those involved with Age-Friendly DC to plan, implement, monitor and evaluate and improve. Simply, the domains provide the focus needed to achieve and maintain progress toward the Age-Friendly City goal.
The domains the District is implementing are:
Outdoor Spaces and Buildings — accessibility to and availability of safe recreational facilities.

Transportation — safe and affordable modes of private and public transportation.

Housing — wide range of housing options for older residents, aging in place and other home modification programs.

Social Participation — access to leisure and cultural activities and opportunities for older residents to participate in social and civic engagement with their peers and younger people.

Respect and Social Inclusion — programs to support and promote ethnic and cultural diversity, along with programs to encourage multigenerational interaction and dialogue.

Civic Participation and Employment — promotion of paid work and volunteer activities for older residents and opportunities to engage in formulation of policies relevant to their lives.

Communication and Information — promotion of and access to the use of technology to keep older residents connected to their community and friends and family, both near and far.

Community Support and Health Services — access to homecare services, clinics and programs to promote wellness and active aging.

Emergency Preparedness and Resilience — information, education and training to ensure the safety, wellness and readiness of seniors in emergency situations. (District-specific)

Elder Abuse, Neglect and Fraud — prevention and prosecution of financial exploitation, neglect, and physical, sexual and emotional abuse of seniors. (District-specific)
The domains and other basic information are available by accessing the link below. That information is in Amharic (አማርኛ), Chinese (中文), French (Français), Spanish (Español) and Vietnamese (Tiếng Việt).